OK, so I'm not a big-time advertising executive with a chrome and glass, fishbowl-style office and a reserved parking space for my Porsche. I'm half of a two-person new media design firm in Upstate New York and a full-time, visiting professor of advertising at Ithaca College. My story may still be of interest, nonetheless.
While my business partner specializes in the programming aspects of new media, my roots are in traditional design and art direction. While he's got his head wrapped around thousands of lines of code, I'm usually working to keep my right brain focused on providing my small to mid sized clients with marketing communications collateral that makes them look like they're a lot bigger than they are. And sometimes, when I do my job correctly, they grow into the image I've helped to create for them.
Case in point: Kirtas Technologies in Victor New York. This innovative company is on the cutting edge of the digitization wave— the totally unorganized, uncoordinated global initiative to digitize the wealth of human knowledge found between the covers of dusty books on shelves and in stacks in libraries and private collections throughout the "civilized" world.
This vast project has many players and a variety of processes. Most rely on cheap, overseas labor and the process varies between manually turning pages and pressing books against flatbed scanner glass or destroying bindings so that the pages can be captured using sheet-fed scanners. The quality is usually questionable and the process is maddeningly boring and labor intensive. Anyone who has ever copied a chapter from a college textbook will attest to that.
Kirtas has relegated the repetitive process of turning pages to a robotic arm and replaced the scanner with high-speed, 16+ mega pixel digital cameras. The resulting productivity increase is astounding. While the manual process yields, on average 100 pages per hour, a finely tuned Kirtas APT BookScan Editor can digitize up to 2400 pages per hour. And with the high-tech robotic technology, the original bound documents fare much better than they do when "man handled" in the afore mentioned processes.
Once the pages are captured, Kirtas provides software that often times produces a final electronic document that is of higher quality than the original. It can be converted to searchable text with metadata indexing for delivery online, or through various electronic publishing vehicles, and printed on demand via Kirtas' partnership with a local digital printing house.
When the VP of Sales and Marketing at Kirtas came to me and said that they wanted to position themselves as more than just a manufacturer of robotic digitization equipment and cool page processing software, I was intrigued. Flying solo as I do, I don't have the advantage of a creative team with whom I can toss ideas around. My creative process usually takes place behind the wheel of my car as I commute from client to client, or on my way to the college where I teach three days a week.
My first few ideas were good, but not great. The client made polite comments like, "We can probably use that as an individual ad, but for this particular project, it's not what we're looking for."
Later on, one idea I presented took a slightly humorous approach. I was presenting to both my client and the CEO, and they were not amused. It was as if I had crossed an invisible line of reverence and decorum and they let me know in no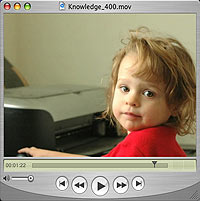 uncertain terms. "John, to us, what we do isimportant. OK, so it's not feeding the hungry or protecting the environment, but providing access to knowledge to those who previously had none is tantamount to a crusade to us.
Have you ever been struck by a bolt of lightning? Except for the pain part, it probably feels quite a bit like the epiphany that I had at that moment. I couldn't wait to get back to my laptop and start writing. And when I did, the words flowed like golden kernels of corn spilling from a hole in the bottom of a UN World Food Program bag (yeah, it's an awkward metaphor, but it ties in with the whole "feeding the hungry" thing above).
I considered the fact that Kirtas is spearheading a revolution. I visualized them as liberators. They are freeing the content of books and making it accessible to others who will find ways to feed the hungry, cloth the naked, cure diseases, achieve world peace, and who knows what else. I had my "big idea," and found my pearl inside the oyster in the phrase, "freeing the printed word from the books that bind it." The rest of the process was gilding the structure and adding polish.
I didn't wait to present a rough draft. I knew this was the "big one." I went to my favorite affordable stock photography source on line and purchased 40 images that would illustrate my script, recorded my wife as she read it (she does most all my voice over work, even though she's a registered nurse by profession), and assembled a two-minute positioning statement in Final Cut Pro.
I worked through the night and finished the project just in time to take a quick shower and jump in the car. On that particular day, Kirtas was holding their board of directors meeting. My client, the VP of Sales and Marketing was out of town, so I went directly to the CEO. He was literally on his way to the conference room when I placed the CD in his hand and suggested he open the meeting with it. I told him he wouldn't be disappointed. He took me at my word.
After he walked into the meeting, I emailed my client and explained what I had done. I apologized for the circumvention, and hoped that the reaction of the board members would negate any breach of protocol. Within a few hours of the meeting, she called to tell me that the video was a complete success. I had "hit it out of the park." One board member suggested, partially in jest, that we had better trademark the "freeing the printed word" phrase before he stole it.
No, I'm not a member of the ad industry's "illuminati," and I work with multi-thousand dollar budgets rather than multi million. But like thousands of other independent artists and small ad boutiques, I add to the creative landscape in the world of marketing communications. I tell my students that our line of work is not easy. The competition is fierce, the clients can be unreasonable, and the rewards can be illusive. But for me, after the exhilaration of finding that "big idea," the biggest draw is the flexibility and variety of working environments. As a creative, I can choose to work alone, or associate with others in an agency setting. And even though I sell my work, it will always be mine. I am proud of it. If it helps my clients to realize their objectives, that's even better.
Go to the Multimedia section of this site to view the finished video.