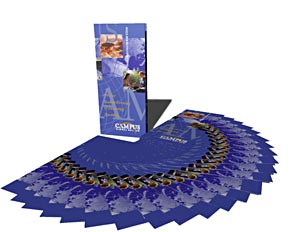 I worked on this brochure with a very talented art director named Mike Palanza. Although I happily give him all the credit for the superior design, I submit the copywriting below for your consideration.
Why the Web?
As a business owner, you're faced with the daily challenge of making the best use of your marketing dollar. Television, radio, print, direct mail and telemarketing - these are the tried and true, traditional forms of media with well known price tags. Today however, more than ever before, companies are being measured by their ability to act on and effectively leverage the explosion in communication and information technologies. The Internet has set the stage for today's Global Marketplace. For the marketers, especially those competing for a share of the young adult audience, the World Wide Web, is a refreshingly cost effective opportunity.
Where is Your Market?
The World Wide Web is growing at phenomenal rates - both in usage and content. Almost half of all users are between the ages of 18 and 34. According to New York-based researcher Jupiter Communications Inc., "there are currently over 14.8 million college students in the United States, of those students, 80% have access to and use the Internet."
The Needle in the Haystack
As of late 1998, there were more than 5.2 million Websites available online. That number is expected to double each year through the beginning of the next decade. How can you expect anyone to find your Website? A presence on the World Wide Web without a sound marketing strategy will draw little attention. So how do you penetrate your market and ensure a return on your investment?
A Ready-Made Audience
Campus Global Net is an online resource for the student and their associated college community. CGN online communities can deliver that audience. With services created for students and marketed by students, CGN provides a valuable resource to your local college community. While browsing the online classified ads, posting a request on the ride board, selling last semester's textbooks or simply staying in touch with friends, students will value the access to your CGN presence. They'll find you in the Community Connection Business Directory and respond to your weekly specials or coupons by locating your business's full-page online advertisement specific to your market.
The Turnkey Approach
Once you're a part of the CGN business community, you'll be able to update your specials any time you like through our online advertiser's administration page. Imagine the marketing flexibility and business potential. As your business continues to grow, CGN's creative team can create and implement an Internet strategy to suit your marketing objectives.
Getting Started...
You've already taken the first step by reading this brochure. Now, simply call or email your CGN Marketing Representative to get the ball rolling. If you haven't already visited a CGN community, take a look at www.campusglobalnet.com. We're looking forward to welcoming you to the CGN community and providing you with a marketing solution to meet the challenge in today's young adult Global Marketplace!