The
Campus Global Net
Marketing Intranet

How do you keep track of a nationwide sales force totally comprised of college students? Campus Global Net relies on resident college students to sell their products to the school population and surrounding community.
Training, order processing, sales call reporting...it all happens through a password-protected, Web-based intranet.
Here's an early draft of the requirements document as a PDF file.
J4 JobSheet:
The Revenge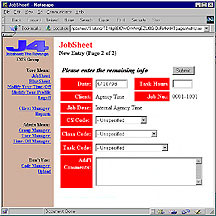 ______________

J4 was developed to satisfy an internal need for better time tracking and communications for my staff. Working on both Windows and Mac platforms, we needed to be concerned with compatibility issues. With the help of Stephan Cossette and David Terrazas, two excellent Web applications programmers, I designed an intranet-based system through which my staff could record their production time and communicate progress. It is password-protected and works on NetScape or Internet Explorer from internal or external workstations.

With user, client, and time-off managers built in, the system is simple to administrate. It was titled "The Revenge" because versions 1 through 3 weren't being used on a regular basis. J4 was integrated with the individual's payroll report. If J4 wasn't up to date, the employee didn't get paid! Revenge is a dish best served cold.

I demonstrated this product to prospective clients from Kodak, Research Institute of America Group, and others--all were very impressed.